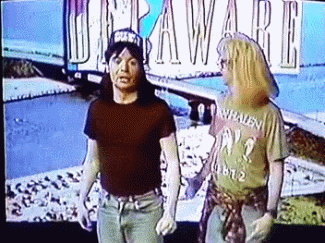 "Hi. I'm in...Delaware."
Wayne Campbell was on to something.
The "First State" may be nondescript.
A mystery to some.
A pair of I-95 rest stops on the way to a sexier destination like...anywhere but New Jersey or Delaware. Or Mississippi for that matter.
Vexing to many; made all the more confusing that Delaware's state university selected a blue fowl as its mascot in 1939.
Then again, unlike a "Scarlet Knight," it's a real thing. A blue strain of the American gamecock. And years ago we were the equally lame Chanticleers -- fighting roosters.
And, of course, home to Papa Joe.
So let's be fair.
Delaware has its benefits beyond serving as the next Rutgers Football opponent.
Kickoff of Saturday's Game 3 for the 2-0 Scarlet Knights is 3:30 p.m.
Let's meet up at Wal-Mart for the carpool at, say, 11-11:30 a.m.? (Solidify a time in the comments).
The forecast is shaping up nicely as of Wednesday night after some rain expected Thursday and Friday; but anyone with a canopy please bring just in case, if for no other reason than giving us some shade, too, if it ends up being sunny and mid-80s as projected.
As I've got 7 lbs. of sliced London broil for cheesesteak in the freezer and plan to buy more to accommodate an increase in expected visitors, I recommend we go with that as the main course.
I'll also prep a big tray of home fries. And peppers and onions for the steaks.
Kathy's friends Janet and Tom are bringing caesar salad with chicken.
So let's use the comment field to fill out the food and beverage selection.
And let's show Kathy's fellow U-Del alums a good time. We'll be joined by the aforementioned Hoffmans and their big-ass Suburban, plus Sharon and Rob of the Westfield Daniel clan.
Assorted others may stop by, including Kaitlyn and her roommates, hopefully with sunscreen this time.
Let the discussion commence...and see y'all Saturday!
[Chef Hobo needs a sense of head count by Friday morning; will update list by the minute]
2: Bill & Kathy (parking pass)
1: Kaitlyn (+ roommates, other TBD)
2: Tom & Janet Hoffman
2; Sharon & Rob Daniel

2: Pete & Sharon (e-tickets, parking pass)
2: Adam & Sophia (e-tickets, mobile parking pass)
2: Julia & Rashad (e-tickets)
6: Eric & Andrea + brother Dave's family
1: Larry (~1:30 p.m. ETA; mobile parking pass)
4: Team Labue (parking pass)
1: Basil
2: Dana
OUT